Tag: A Taste of Flagstaff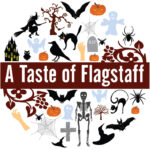 Victim Witness Services for Coconino County offers compassionate support and resources to victims of crime and /or crisis. They serve people who have experienced domestic violence, sexual assault, child abuse, assault and even surviving members after a death. Their services are essential to community members.
Please support them by going to their 18th annual "A Taste of Flagstaff!!" This years event will be on Monday October 23 and will be a Halloween gala! Prizes for best costumes! Come get your ghoul on!!!