Tag: 2018 Arizona Budget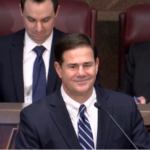 Arizona Gov. Doug Ducey said he will increase Arizona K-12 education funding by moving money from other areas of the budget into the state's public schools during his State of the State address (Jan.8) at the Arizona Legislature.
Ducey also said his budget proposal will be released on Friday.
But critics say Ducey has under-funded classrooms and teachers while cutting taxes for corporations and expanding school vouchers, according to an article in The Arizona Republic.