Tag: 12 NEWS NBC

Arizona's public education system could use more money– a point few argue against. The disagreement comes when elected officials and education advocates start talking about how to get there.
Arizona School Boards Association lobbyist Chris Kotterman made that observation as he reflected on a proposal to increase personal income taxes for the wealthiest Arizonans.
He recalled a roomful of the education community's representatives discussing the idea and his own trepidation about it..
An income tax hike would draw too much well-funded opposition to be successful, he said, but don't expect ASBA to lobby against the proposal.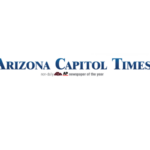 Gov. Doug Ducey won't promise to veto new tax cuts even as he says the state is putting as much money as it can into public education.
In fact, the governor is already committed to sign at least one measure that will cut state revenues by up to $15 million a year.
The issue arises amid rising complaints from teachers and educators that the state is short-changing public schools. That comes not only because per student funding is actually less than it was a decade ago after inflation is taken into account but that teacher salaries in Arizona are at or near the bottom of the nation.