Do you work with teens? This one-track program offers a variety of topics presented by professionals in the field.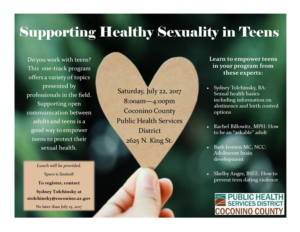 Supporting open communication between adults and teens is a good way to empower teens to protect their sexual health.
Learn to empower teens in your program from these experts:
Sydney Tolchinsky, BA: Sexual health basics including information on abstinence and birth control options
Rachel Billowitz, MPH: How to be an "askable" adult
Barb Iverson, NCC: Adolescent brain development
Shelby Anger, BSEE: How to prevent teen dating violence
When: Saturday, July 22, 2017
8am – 4pm
Where: Coconino County Public Health Services District
2625 N King St
Lunch will be provided. Space is limited!
To register, contact Sydney Tolchinsky at stolchinsky@coconino.az.gov no later than July 15, 2017. To register, fill out the survey here
Category: Educational Opportunities, Events, Health, Resources