Presented by Over the Rainbow Butterfly Garden, Inc. at NAU's Field House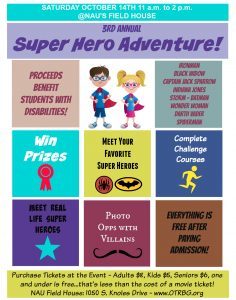 The Third Annual Flagstaff Super Hero Adventure is Saturday October 14th from 11 a.m. to 2 p.m. at NAU's Field House (1050 S. Knoles Drive)! Complete adventure courses along side your favorite Super Heroes and win prizes. As always, the event will also feature real life super heroes that work hard every day to make our community a better place for all of us!
Confirmed Super Heroes include:
IRONMAN
BATMAN
WONDER WOMAN
SPIDERMAN
BLACK WIDOW
STORM
INDIANA JONES
CAPTAIN JACK SPARROW
AND OF COURSE…DARTH VADER.
Adults $8, Kids $5, Seniors $6 (55 and better), age 1 and under are free. That's less than the price of a movie ticket! Once inside, all games, adventure courses, prizes, face painting, etc. is free! Tickets will be sold at the door on the day of the event. Proceeds benefit Flagstaff students needing speech and occupational therapies. Over the Rainbow Butterfly Garden is a non-profit 501 (c) (3).
Category: Child Welfare, Events