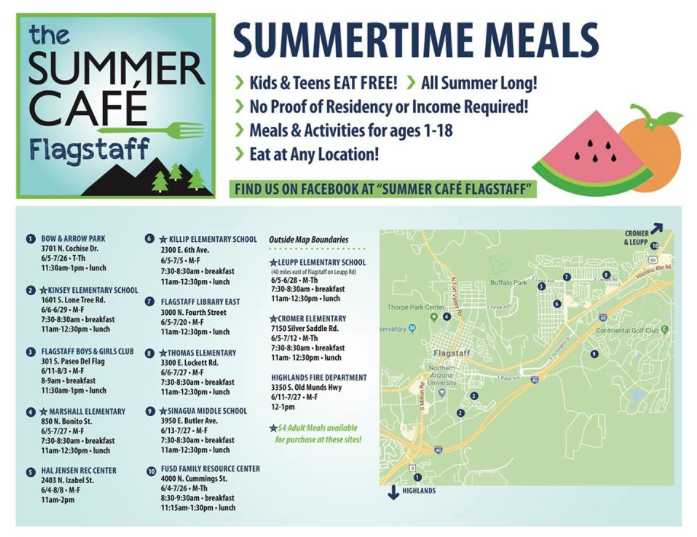 By CCC&Y
The Summer Café Flagstaff provides FREE meals for children and teens! No need for proof of residency or income. Anyone 18 and under can simply come to any Summer Café location in Flagstaff and enjoy a tasty, nutritious meal!
For locations, more information, visit:
Arizona Daily Sun: Community Brief: Flagstaff Summer Cafe opens for breakfast and lunch June 3
***
The Summer Café is coming to Grand Canyon Village, Tusayan and Valle
All kids 18 and under eat free. The food is provided by St. Mary's Food Bank through the Arizona Department of Education. The goal of the summer food program is to provide nutritious meals to students who rely on school meals through the summer months. We know that if there are activities provided before, during or after the meal that more kids will show up so programming is vitally important.
The Summer Café will be held at:
Noon to 2 p.m. May 28 through Aug. 3 — Grand Canyon Village: Grand Canyon Recreation Center, 2 Mohave St., Grand Canyon Village.
11:45 a.m. to 12:45 p.m. Monday, June 4 through July 27 — Tusayan: Grand Canyon School District Sports Complex, 330 Long Jim Loop, Grand Canyon Village.
11:45 a.m. to 12:45 p.m. Monday, June 18 through July 27, Valle: Enstrom Baseball Field, 300 Enstrom, Williams (Valle).
***
Volunteers sought to help distribute free meals at Summer Café sites at Tusayan, Valle
Impact your Community this Summer by volunteering for The Summer Café!
Locations provide free, nutritious meals to kids and teens without needing proof of residency or income. Help distribute the free meals at the The Summer Café sites in Tusayan and Valle (See above).
Send an e-mail to Mike Scott at gccommunitychurch@gmail.com
See related statewide stories:
Category: General