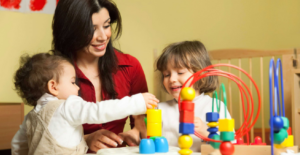 A recent study has proven that Quality First works to improve the quality of early learning settings and that the scale used to rate programs does reflect distinct levels of quality.
 Quality First is First Things First's signature strategy. The program partners with child care and preschool providers across Arizona to improve the quality of their early learning settings through coaching, assessments, professional development and incentives. After about two years in the program, participating early learning sites are rated on a scale of 1-5 stars, and that information is published at
QualityFirstAZ.com
, along with other tools that help families find quality child care that meets their needs.
Early learning quality improvement – including scholarships so that more young children can access quality child care and preschool – is the single largest investment at First Thi​​ngs First (almost 50 percent of spending in fiscal year 2016). The voluntary program currently serves about 1,000 child care and preschool programs – roughly one-third of the licensed or certified early learning settings in Arizona.
This is phase one of a series of studies recommended by a national panel of experts to ensure that Quality First is improving child outcomes.
To read to full article, follow the link
here
.
Category: Child Welfare, Education, Programs