Build stronger families in seven sessions!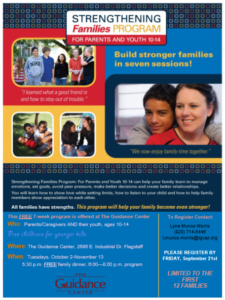 Strengthening Families Program: For parents and youth 10-14 can help your family learn to manage emotions, set goals, avoid peer pressure, make better decisions and create better relationships.
You will learn how to show love while setting limits, how to listen to your child and how to help family members show appreciation to each other.
All families haves strengths. This program will help your family become even stronger!
This FREE 7-week program is offered at the Guidance Center.
Who: Parents/Caregivers AND their youth 10-14
Free childcare for younger kids
Where: The Guidance Center
2695 E Industrial Dr
When: Tuesdays, October 2 – November 13
5:30pm FREE family dinner, 6-8pm program
To register contact: Lyna Munoz-Morris
(928) 714-6446
Lmunoz-morris@tgcaz.org
Please register by Friday, September 21st
Limited to the first 12 families.
Category: Educational Opportunities, Programs, Resources