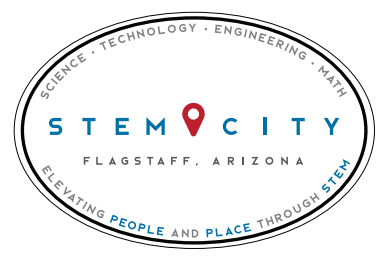 STEM Celebration 2023
We're excited to announce the
10th Annual STEM Celebration!
Saturday, April 29, 2023
1:00 to 4:00 p.m.
Fort Tuthill Fairgrounds
Your organization is invited to participate in this unique STEM Event!
STEM City and its partners are pleased to sponsor this community-wide event to engage children and adults in the broad range of STEM opportunities throughout northern Arizona.
Hands-on activities, demonstrations and conversations excite participants, expose the community to STEM educational and career opportunities and celebrate Flagstaff's designation as "America's First STEM Community."
We hope you will participate in this once-a-year celebration of STEM in our community.
Click below to register for the 2023 STEM CELEBRATION!
2023 STEM Celebration Registration
Please complete and submit the online registration form soon.
Displays will be set up Saturday morning, April 29, and must be ready before the gates open at 12:45 p.m.
Plan a hands-on activity or highly engaging demonstration for participants. This interactivity is what makes the STEM Celebration so unique.
Generally speaking, your display should fit on one or two 8' tables.
Opportunities for either indoor or outdoor activities will enable you to plan even more interactive experiences.
Your activity must be safe to conduct with people nearby.
Remember to plan for typical Flagstaff springtime breezes.
Those with outdoor exhibits may utilize a pop-up cover. Each leg must be secured with 10 lb. weights (such as weighted buckets, sandbags or dumbbells).
Please do not solicit membership or have any merchandise for sale. This is a completely free event open to the public.
Click below to register for the 2023 STEM CELEBRATION!
2023 STEM Celebration Registration
Questions? Contact coordinator@flagstaffstemcity.com
Category: Education, Educational Opportunities, Programs, Resources