Still struggling after the winter months? Do you need rental/move-in assistance or are you behind on your electric,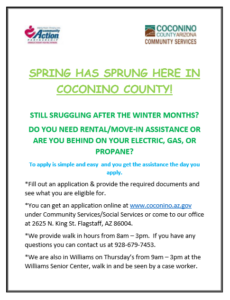 gas, or propane? To apply is simple and easy, and you get the assistance the day you apply!
Fill out an application and provide the required documents and see what you are eligible for.
You can get an application online here or come to our office at 2625 N. King St. Flagstaff, AZ 86004.
We provide walk-in hours from 8am – 3pm. If you have any questions you can contact us at (928) 679-7453.
We are also in Williams on Thursdays from 9am – 3pm at the Williams Senior Center, walk in and be seen by a case worker.