Presented by Flagstaff Arts Council at Coconino Center for the Arts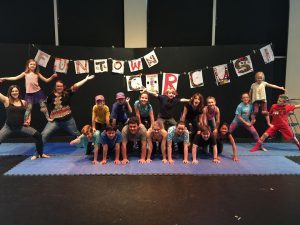 The Spring Break Circus Camp is a fun and creative program where children and youth of all types and ability levels will be encouraged to achieve their highest potential.
Flagstaff Arts Council and Funtown Circus Camp are pleased to announce The Spring Break Circus Camp taking place March 19- March 23, 2018. The camp will be held at the Coconino Center for the Arts from 9:00 a.m.- 1:00 p.m. daily with a culminating performance on Friday, March 23.
They will learn circus skills such as acro balance, tumbling, clowning, aerial silks, lyra, comedy improv and juggling.
Participants will learn about empowerment of self and others, character development through our inclusive structure, and how to think creatively.
Spring Break Circus Camp offers sessions for ages 7-13. Students are encouraged to register for all five days to achieve the full experience. For students who are not able to make all five days, there are day drop in sign up options.
For more information or questions, call (970) 560-9485 or email funtowncircus@gmail.com.
ADMISSION INFO
Camp dates are set for Spring Break week, March 19-23, 2018, at the Coconino Center for the Arts. Registration is $200 after March 1. The Single Day Drop in rate is $60.
Where: Coconino Center for the Arts
2300 North Fort Valley Road
Flagstaff, AZ 86002