You're invited to join us at the next Northern Arizona – Flagstaff SPOTLIGHT Luncheon!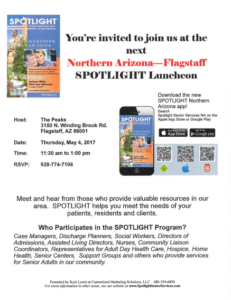 Meet and hear from those who provide valuable resources in our area. SPOTLIGHT helps you meet the needs of your patients, residents and clients.
Who participates in the SPOTLIGHT Program?
Case Managers, Discharge Planners, Social Workers, Directors of Admissions, Assisted Living Directors, Nurses, Community Liaison Coordinators, Representatives for Adult Day Health Care, Hospice, Home Health, Senior Centers, Support Groups and others who provide services for Senior Adults in our community.
Host: The Peaks
3150 N. Winding Brook Rd
Flagstaff, AZ 86001
Date: Thursday, May 4th
Time: 11:30am – 1pm
RSVP: (928) 774-7106
Category: Educational Opportunities, Events, Health