This event will provide information, education, training, vendors and useful tools for parents caregivers, agencies,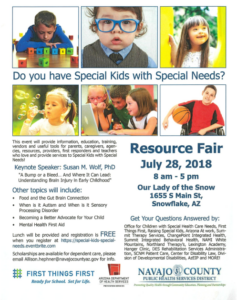 resources, providers, first responders and teachers who love and provide services to Special Kids with Special Needs!
Keynote Speaker: Susan M. Wolf, PhD
"A bump or a bleed…and where it can lead: Understanding brain injury in early childhood"
Other topics will include:
Food and gut brain connection
When is it Autism and when is it sensory processing disorder
Becoming a better advocate for your child
Mental Health first aid
Lunch will be provided and registration is free when you register here. Scholarships are available for dependent care, please email Allison.hephner@navajocountyaz.gov for info.
When: July 28, 2018
8am – 5pm
Where: Our Lady of the Snow
1655 S Main St
Snowflake, AZ
Category: Educational Opportunities, Events, Health, Resources