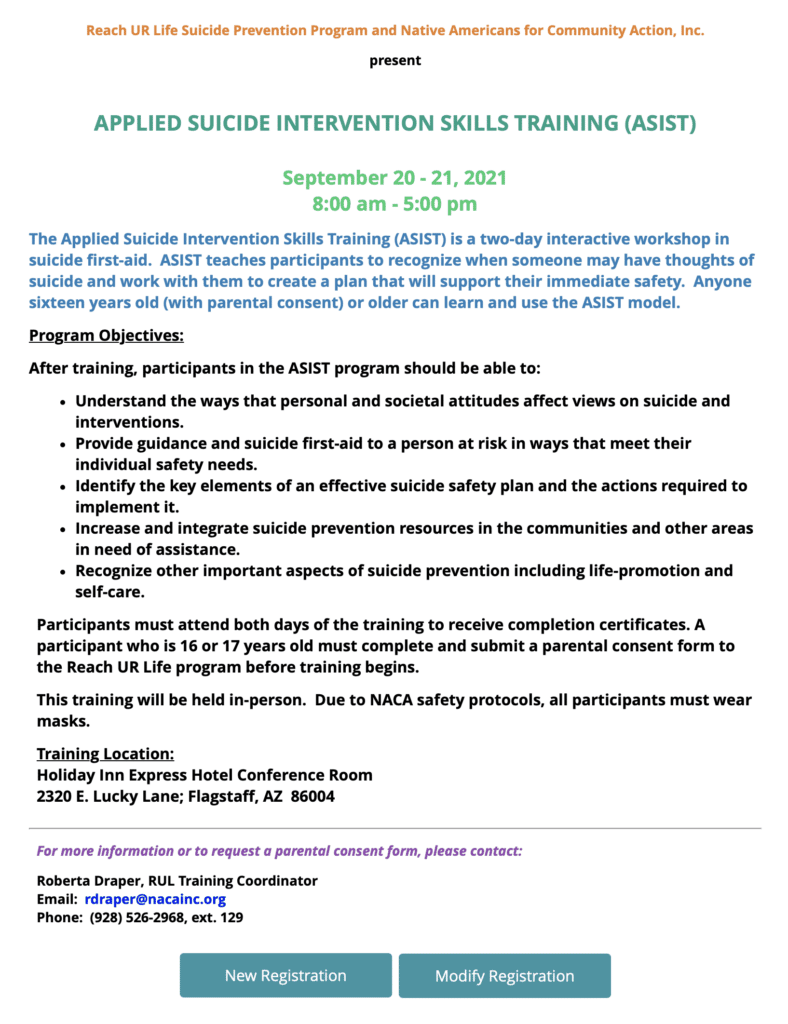 By Native Americans for Community Action
The Reach UR Life Suicide Prevention and the Native Americans for Community Action, Inc. announce a FREE Suicide Prevention Training:
"Applied Suicide Intervention Skills Training (ASIST)"
September 21, 2021
8:00 am – 5:00 pm
Holiday Inn Express Hotel Conference Room
2320 E. Lucky Lane; Flagstaff, AZ 86004
ASIST is a two-day interactive workshop in suicide first-aid. The training teaches participants to recognize when someone may have thoughts of suicide and how to help them create a plan to support their immediate safety. ASIST is for anyone ages 16 (with parental consent) and older, and no prior or formal training is necessary.
ASIST's key features include:
To facilitate involvement, participants will work in small groups with trainers.
Participants learn to adapt to the specific circumstances of a person with thoughts of suicide and work collaboratively to help them stay safe.
Participants are encouraged to reflect on and share their own attitudes about suicide and suicide intervention. This helps them understand how their perspectives may affect their role in providing help to a person with thoughts of suicide.
By encouraging honest, open, and direct talk about suicide, ASIST helps prepare to discuss the topic with a person with thoughts of suicide.
Workshop activities are structured around the ASIST intervention model and provide applicable, hands-on skills practice.
High-quality slides, diagrams and videos help participants understand and memorize concepts.
To register, click HERE
This training will be held in-person. Due to NACA safety protocols, all participants must wear masks. For any questions, please feel free to contact me.
Category: Events