Presented by Willow Bend Environmental Education Center at Willow Bend Environmental Education Center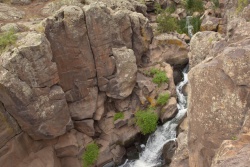 May 6, 2017 9am – 1pm
Join Willow Bend and Friends of the Rio de Flag for a FREE event that's all about the Rio on Saturday, May 6th!
Event starts at 9am with a 2 mile guided tour of the Rio from Willow Bend to the Wetlands and back. Then, hands on activities at Willow Bend including creating your own watershed, water quality sampling, interactive Rio map, pond life under a microscope, 3D terrain model, and more. Plus, Rio de Flag poster exhibition from local schools. During the spring semester Willow Bend has been delivering place based Rio De Flag focused programs to various FUSD schools including Knoles, Kinsey, and Alpine Academy at MEMS as part of our Flagstaff Community Foundation grant.
This event will be a celebration of the students' hard work and an opportunity to showcase what they have learned.
Event is free suitable for all ages and open to the public.
Willow Bend Environmental Education Center
703 East Sawmill Road
Flagstaff, AZ86001
Category: Educational Opportunities, Events, General