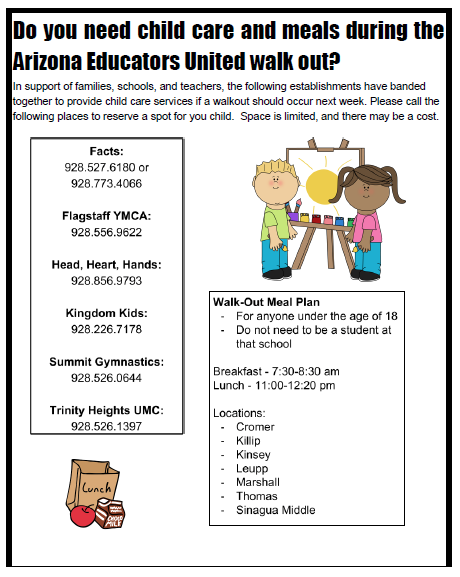 By CCC&Y 
From Page to Prescott and everywhere in between, school districts in the region are preparing for a teacher walk-out scheduled to begin Thursday, April 26.
Parents are urged to keep checking with their local school districts and the local media for the latest information on how the walk-out will impact school meals, sporting and other academic activities.
The following are links to the latest walk-out related stories in the region:
CCC&Y Statement on teacher walk-out: While we sincerely hope that Arizona is able to avoid a teacher strike, we at the Coconino Coalition for Children & Youth have been reporting on the desperately needed support for education in our State for years now.  We recognize that we all make choices and get what we pay for.  For us in Arizona, that has meant being 49th in the Nation for elementary teacher pay, failing infrastructure and teacher shortages in the thousands. The current climate is not just about supporting teachers- which is crucial and past due- it is about the VALUE we place on having an educated and ready future generation.  We support teachers, schools, administrators, families, and our elected leaders as we call for all Arizonans to work together to begin the healing and necessary change that our State requires.  We applaud the improvements that have been made recently while we recognize the work we have yet to do.  Our children require that we do not turn this into an us against them battle.  Every single Arizonan, family, business and entity has a stake in how this issue resolves.
LAUNCH Flagstaff Statement for World-Class Education Funding: The mission of LAUNCH Flagstaff is to advance world-class education for every child in Flagstaff from cradle through their career. We accept our shared responsibility in reaching this goal. The following partners of LAUNCH Flagstaff support our children by reinvesting in our teachers and schools. Through seeking a permanent educational funding solution, we can ensure our education system is capable of achieving world-class status. We desire that all community sectors engage in this conversation and find the common ground that will produce the educational results we all want. Read the entire list of supporting partners HERE.
Category: General