Presented by Arizona Snowbowl at Arizona Snowbowl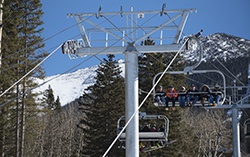 April 14 – April 16, 2017 10am – 4pm
SCENIC CHAIRLIFT RIDES:
The Grand Canyon Express will be available for scenic rides. Foot passengers will be able to load onto the chair and ride a round trip (no unloading at the top).
Admission Info:
Tickets for the scenic chairlift ride are available:
Online Price: $19 ticket or $29 (includes a $15 gift card)
Window Price: $29 ticket or $39 (includes a $15 gift card)
*The $15 gift card is a "snow check" that may be used on food, bar or retail purchases only on the same day for which it was purchased.
All gift cards expire on the day of use.
Arizona Snowbowl
9300 N. Snowbowl Rd.
Flagstaff, AZ86001