SB 1166 – Permanent Guardianship; Subsidy is on the Senate Health and Human Services agenda for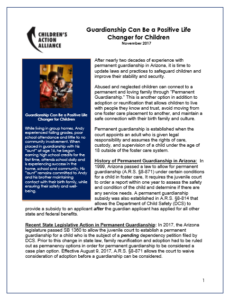 Wednesday, 1/31 at 2pm.
Abused and neglected children can be connected to lifelong families through an option known as "Permanent Guardianship" which allows children to leave foster care and live with people they already know. After nearly two decades of experience with Permanent Guardianship in Arizona and changes over the years in state practices, SB 1166 will update a couple of laws that will improve children's stability and security.
If you are willing to speak to the bill at the hearing, or have someone who else who would, and /or if you will sign in to the "Request to Speak" service through the legislature's website to support the bill, please do so!  The more support, the better.  Children's Action Alliance has created a fact sheet on the bill, and a policy brief on this subject. For more information about SB1166, follow the links above or click on the picture to the right.
Category: Advocacy, Child Welfare, Events, General