Arizona Council of Human Service Providers 2018 Member Conference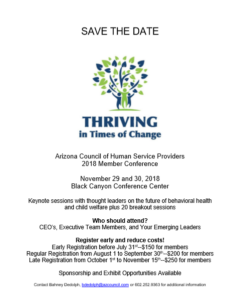 November 29 and 30, 2018 at the Black Canyon Conference Center
Keynote sessions with thought leaders on the future of behavioral health and child welfare plus 20 breakout sessions!
Who should attend?
CEO's, Executive Team Members, and Your Emerging Leaders
Register early and reduce costs!
Early registration before July 31st – $150 for members
Regular registration from August 1st to September 30th – $200 for members
Late registration from October 1st to November 15th – $250 for member
Contact Bahney Dedolph, bdedolph@azcouncil.com or (602) 252-9363 for additional information.
Category: Child Welfare, Events, General