Child Abuse Prevention Conference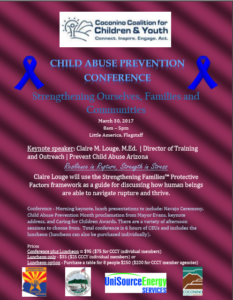 Strengthening Ourselves, Families, and Communities
Our keynote speaker, Claire Louge, will use the Strengthening Families™ Protective Factors framework as a guide for discussing how human beings are able to navigate rupture and thrive.
The conference will include: morning keynote, lunch presentations to include: Navajo Ceremony, Child Abuse Prevention Month proclamation from Mayor Evans, keynote address, and Caring for Children Awards. There are a variety of afternoon sessions to choose from.  Total conference is 6 hours of CEUs and includes the luncheon (luncheon can also be purchased individually).
CLICK HERE or on the picture to see more information about the conference!
Category: Child Welfare, Events, Programs