Annual Child Abuse Prevention Conference: Honoring Legacy, Empowering Future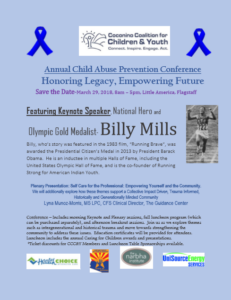 SAVE THE DATE: March 29, 2018, 8am – 5pm; Little America, Flagstaff
Featuring Keynote Speaker: National Hero and Olympic Gold Medalist – Billy Mills!
Conference – Includes morning Keynote and Plenary sessions, full luncheon program (which can be purchased separately), and afternoon breakout sessions. Join us as we explore themes such as intergenerational and historical trauma and move towards strengthening the community to address these issues. Education certificates will be provided for attendees. Luncheon includes the annual Caring for Children awards and presentations.
*Ticket discounts for CCC&Y Members and Luncheon Table Sponsorships available.
Category: Child Welfare, Educational Opportunities, Events, Programs