Presented by Ascension Events at The Orpheum Theater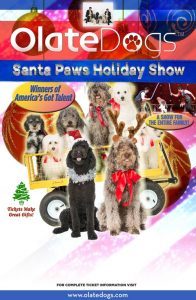 The Olate Dogs create a high energy, fast-paced theatrical act filled with amazing "doggie-friendly" pet tricks. Great for all ages and families.
The Olate Dogs are the winning participants from Season 7 of America's Got Talent, capturing the $1 million prize. Since that day, their lives have been a non-stop roller-coaster! Led by father Richard Olate and his son Nicholas Olate, the Olate Dogs (www.olatedogs.com) are a high-energy, fast-paced act filled with doggie friendly and amazing pet tricks. The all-new LIVE theatrical show include the famous jumping rope, twirling spinning and fun-loving Olate Dogs made famous on America's Got Talent… but there's much more. With a doggy fashion show, a classic comedic routine by Richard Olate, music by Nicholas Olate and amazing cycling and juggling by his wife, the Olate Dogs show is fun for kids of all ages.
Ever since a father and son took their 10 flipping, twirling dogs from the center ring of a circus to the stage where they won the TV competition "America's Got Talent," people have been packing their performances and watching their films. The Olate Dogs use slides and jump rope bas good as any playground expert. They fall into a conga line in perfect sync and perform flawless backflips. Richard Olate, son Nicholas and their poodle-mix rescue dogs continue to dazzle audiences with their fast-paced, trick-filled shows.
ADMISSION INFO
$31 for GA
$58 for Gold Circle (First 3 rows)
$11 Youth Ticket (12 & under), for both GA and Cold Circle
When: Tuesday Dec 19, 2017
06:00 pm
Where: The Orpheum Theater
15 West Aspen Street
Flagstaff, AZ 86001
Follow the link here to purchase your tickets!