Presented by Native Americans for Community Action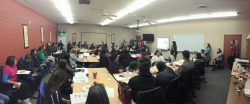 SafeTALK is a half-day education session intended to provide 'suicide awareness for everyone' where attendees will learn the skills to acknowledge an individual at risk and utilize the resources to connect that person to in order to keep them safe. The session will be held on Tuesday, April 18th from 1 p.m. – 4 p.m at the Flagstaff Family Resource Center.
Admission Info:
FREE Community Training Resource
General Day and Time Info:
Please visit the link here to select and register for your preferred SafeTALK or ASIST II event.
Flagstaff Family Resource Center
4000 N Cummings St
Flagstaff, AZ86004
Category: Advocacy, Educational Opportunities, Health, Programs, Resources