A resource guide for youth and young adults in Flagstaff has been created! This list is not intended to cover every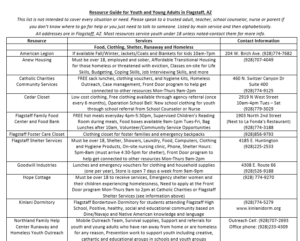 situation or need. Please speak to a trusted adult, teacher, school counselor, nurse or parent if you don't know where to go for help or you just need to talk to someone. All addresses are in Flagstaff, AZ. Most resources service youth under 18 unless noted.
Click on the picture or follow the link here for the complete resource guide.
Category: Child Welfare, Health, Resources