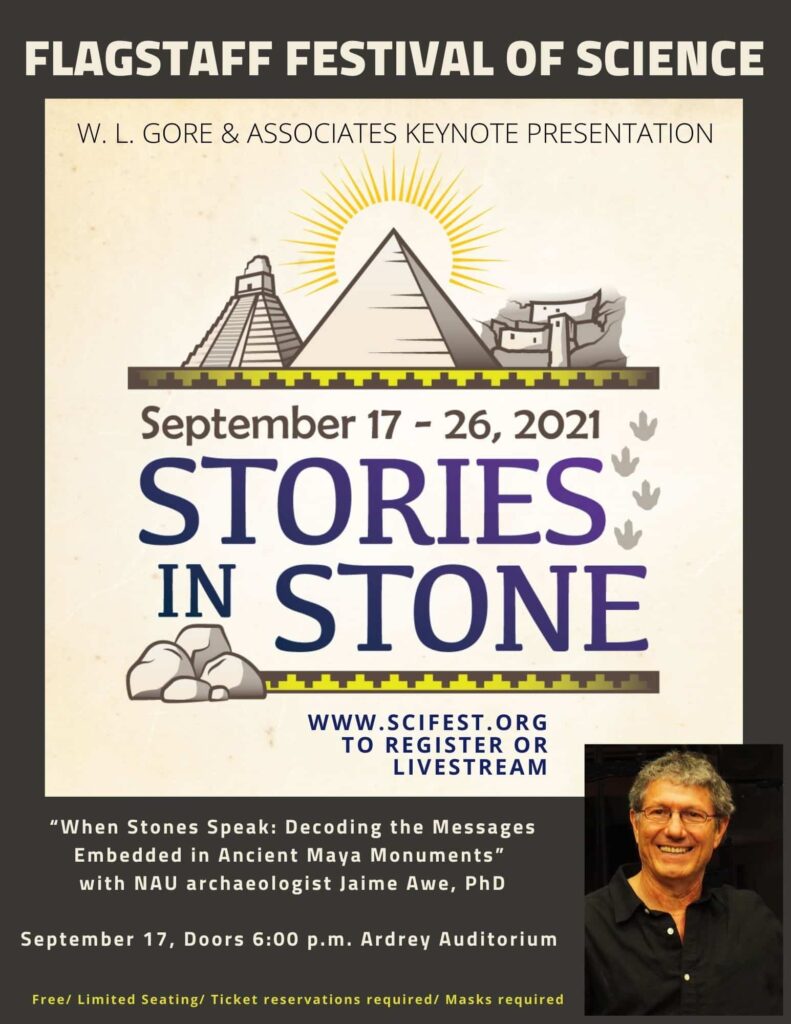 FLAGSTAFF — The 2021 Flagstaff Festival of Science will explore "Stories in Stone" on September 17-26 in Flagstaff, Arizona. The W.L. Gore & Associates Flagstaff Festival of Science Keynote presentation with Jaime Awe, Ph.D. is FREE and will be held at NAU's Ardrey Auditorium on September 17, 2021. There is limited seating, and advanced reservation is required. Due to social distancing, the auditorium will be at a quarter of the capacity. The Keynote can also be live-streamed from the comfort of your own home!
Doors open at 6:00 pm. Beginning at 6:30 pm, the Festival presents a ballet dance from the NAU Community Music & Dance Academy. The in-person keynote talk as well as the live stream will begin at 7:00 pm.
"When Stones Speak: Decoding the Messages Embedded in Ancient Maya Monuments" with Dr. Jaime Awe will illuminate the Maya culture for audiences at Ardrey Auditorium. "This year's Festival provides a wonderful opportunity for me to share results of my long and ongoing research on Maya civilization, and on the significant information that is encoded in the monuments of the ancient Maya," says Dr. Awe. Maya monuments hold important information on how this fascinating civilization viewed their universe, and how they interacted socially, politically, and ritually with their gods and peers. Don't miss this amazing opportunity to hear Dr. Awe speak about his extensive research on the Maya civilization!
During the 10-day Festival, participants will have the opportunity to learn about ancient cultures, the environment of the Colorado Plateau, wildlife, astronomy, biology and so many more scientific fields! Outstanding scientists and STEM professionals from Flagstaff and beyond will participate in each collaborative program, and all events are free!
To register for the keynote and other Festival events, visit www.scifest.org. The website has the up to date digital passport as well as links to all events that require a reservation. For more information, visit our Facebook page, LinkedIn page or Instagram page.
ABOUT THE FLAGSTAFF FESTIVAL OF SCIENCE
The Flagstaff Festival of Science serves to connect and inspire the citizens of Northern Arizona, particularly youth, with the wonders of science and the joy of scientific discovery. The Flagstaff Festival of Science is a free annual 10-day event wholly designed to promote awareness and enthusiasm for science in and about Northern Arizona, and is fondly known as the "10 best days of the year." Established in 1990, it is the longest running, entirely free public science festival in the USA.
The Festival is made possible through the generous support of businesses, organizations, foundations and individuals. Major sponsors include W. L. Gore & Associates, the City of Flagstaff/BBB Revenues, Creative Flagstaff, Northern Arizona University, the Alfred P. Sloan Foundation, Science Festival Alliance, the Arizona Community Foundation of Flagstaff, Suddenlink, and Peaks Audio Productions.
Category: Education, Educational Opportunities, Events, Programs, Resources