Event, featuring keynote speaker Billy Mills, Olympic Gold Medalist and co-founder of Running Strong for American Indian Youth, serves as a kickoff to Child Abuse Prevention Month in April. Deadline is March 20.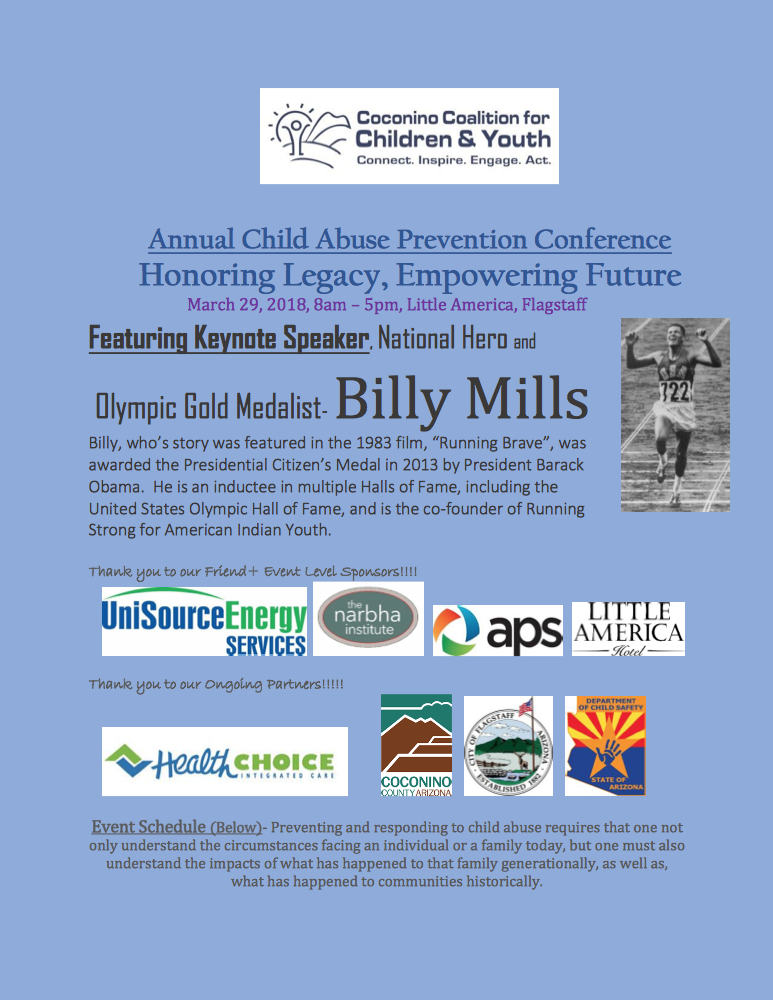 FLAGSTAFF — In recognition of April as Child Abuse Prevention Month, CCC&Y will present the 2018 Annual Child Abuse Prevention Conference and Luncheon — "Honoring Legacy, Empowering Future," at Little America Hotel, Flagstaff on March 29th, 2018. The conference will be held from 8 a.m. to 5 p.m.
Registration is required for the conference and the luncheon prior to Tuesday, March 20.
Billy Mills, 1964 Olympic Gold Medalist and co-founder of Running Strong for American Indian Youth, will be this year's keynote speaker; presenting "Footprints." He was featured in the 1983 film "Running Brave" and was awarded the Presidential Citizen's Medal in 2013 by President Barack Obama. He is an inductee in multiple Halls of Fame, including the United States Olympic Hall of Fame. Mr. Mills' 1964 gold-winning 10-meter race, is to this day considered one the greatest upsets in Olympic history. An unknown going into the race, Mr. Mills, who was orphaned at age 12 and grew up on the Pine Ridge Indian Reservation, would come away with an inspiring and amazing story about following dreams. He would also clearly envision a global unity. However, returning home to United States, Mr. Mills would also witness strife and struggle for this unity. Join us as Mr. Mills leads us to explore historical policy and beliefs and how those policies have led us to where we stand today. Mr. Mills is an incredibly inspiring speaker who will leave us hope-filled, but also, grounded in historical understanding that is too often forgotten.
There are multiple breakout session choices covering topics in Self Care for the Professional, Hip Hop Heals, Childhelp Child Safety and Human Trafficking.
The luncheon will be held from noon to 2 p.m., featuring the presentation of awards to six outstanding Coconino County community members who have given exceptional support and care to children and youth, presentations of proclamations for Child Abuse Prevention by the City of Flagstaff and Coconino County and a Community Panel Discussion by individuals who are working collectively to support wellness of our communities for our children and youth.
Individual registration for the conference is $95 and includes the luncheon. Individual registration for the luncheon is $45 with tables of eight available for $280 ($225 for CCC&Y members). *We do have a small selection of need-based scholarships available for foster parents and those responsible for preventing or responding to abuse in our communities.
Registration is required for both events prior to March 20. For registration, speaker biographies and the conference agenda, go to http://coconinokids.org/2018-annual-child-abuse-prevention-conference/
Protector+ Event Level Sponsors for this event are the NARBHA Institute, Little America and Unisource Energy Services, with the support of ongoing partners the City of Flagstaff, Coconino County, the State of Arizona Department of Child Safety and Health Choice Integrated Care.
About the Coconino Coalition for Children & Youth: CCC&Y works to ensure all children and youth in Coconino County have the resources and support they need to reach their full potential. For more than 40 years, CCC&Y has acted as the countywide communication link, bridging and supporting services for children and youth. Through advocacy, prevention, education and community partnership building, CCC&Y has built a strong, extensive network of families, providers, leaders and communities all striving to improve the lives of young people.
Proceeds from this year's Annual Child Abuse Prevention Fundraiser and Caring for Children Awards will support CCC&Y's prevention, community education and child advocacy efforts throughout the year.
Visit http://coconinokids.org/2018-annual-child-abuse-prevention-conference/ for more information and to register for this event.
Category: Advocacy, Child Welfare, Education, Events, Programs