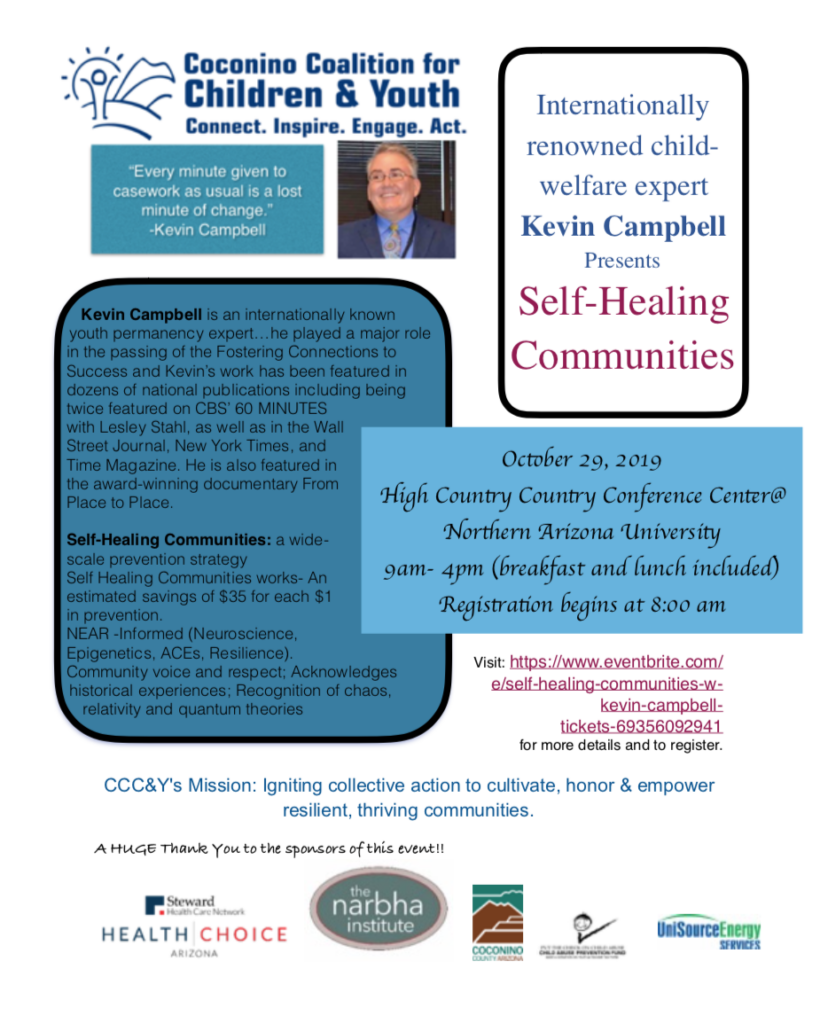 Event includes full day of training, followed by members' reception
By the Coconino Coalition for Children & Youth
FLAGSTAFF — RSVP now for Kevin Campbell's presentation on "Self-Healing Communities," from 9 a.m. to 4 p.m. Tuesday, Oct. 29 at the High Country Conference Center, 201 W. Butler Ave., Flagstaff.
Tickets are $30 to $45. Click here to register.
"We already have ticket purchases coming in so please make sure to get you and your team signed up," said Virginia Watahomigie, executive director of the Coconino Coalition for Children & Youth. "Remember, this is about systematic and culture change — everyone is needed in this movement."
Campbell is an internationally known youth permanency expert…he played a major role in the passing of the Fostering Connections to Success legislation, and Kevin's work has been featured in dozens of national publications including being twice featured on CBS' 60 MINUTES with Lesley Stahl, as well as in the Wall Street Journal, New York Times, and Time Magazine. He is also featured in the award-winning documentary From Place to Place. For his complete bio, click here
…..And he will be in Arizona for one day to impart……
Self-Healing Communities: A wide-scale prevention strategy
Self Healing Communities works- An estimated savings of $35 for each $1 in prevention
NEAR -Informed (Neuroscience, Epigenetics, ACEs, Resilience)
Community voice and respect; Acknowledges historical experiences
Recognition of chaos, relativity and quantum theories
For more information about self-healing communities, click here
ALL ARE HIGHLY ENCOURAGED TO ATTEND. (STATE, COUNTY, CITY & TRIBAL DEPARTMENTS, PHYSICAL AND BEHAVIORAL HEALTH, CHILD WELFARE, JUSTICE SYSTEMS, LAW ENFORCEMENT, ADVOCACY GROUPS, EDUCATION, BUSINESS, NON-PROFITS, COMMUNITY LEADERS AND ELECTED OFFICIALS)
Continental Breakfast and Full Buffet Lunch are included!!
Parking is free in the garage- but please plan to carpool.
This event would not be possible without the generous support of our event sponsors:
Steward Health Choice Arizona
The NARBHA Institute
Coconino County
DCS Child Abuse Prevention
Unisource Energy Services
"Thank you tour sponsors for their help in making this happen attach a reasonable ticket price," Watahomigie.
For questions and scholarship requests please contact coalition@coconinokids.org. Also, please note we are working to have live-stream sites in Page, Tuba City and Fredonia. Those sites will have a separate registration process as location and hosts are confirmed.
Category: Advocacy, Child Welfare, Education, Educational Opportunities, Events, Health, Programs, Resources