The 24th Statewide Child Abuse PREVENTION Conference will be held July 24 & 25, 2018 at the beautiful Wigwam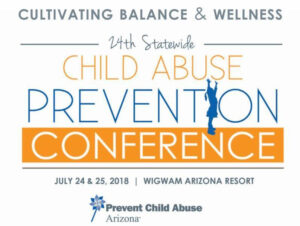 Resort in Litchfield Park (northwest of Phoenix). The conference will feature four keynote speakers, five breakout sessions with a selection of 50 workshops, a storytelling show, and a wellness fair. CCC&Y's very own Executive Director, Virginia Watahomigie, and Board Member Andrea Meronuck are presenting breakout sessions this year!
 Registration Rates
Regular (

May 1 – July 8

): $350
Late (

July 9

– onsite): $400
The theme for this year's conference is "Cultivating Balance and Wellness."
In addition to presentations on child welfare issues, child well-being, child development and family support, workshops will be offered on topics that will help attendees in seeking balance and wellness in their personal and professional lives, and give them tools to build resilience in those they work with.
Category: Advocacy, Child Welfare, Events, Programs, Resources