Strengthening Ourselves, Families and Communities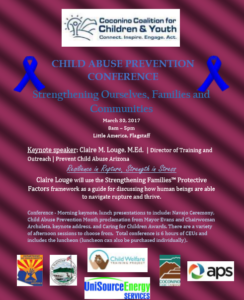 March 30, 2017 8am – 5pm
Little America, Flagstaff
Keynote speaker: Claire M. Louge, M.Ed.  | Director of Training and Outreach | Prevent Child Abuse Arizona   Resilience in Rupture, Strength in Stress Claire Louge will use the Strengthening Families™ Protective Factors framework as a guide for discussing how human beings are able to navigate rupture and thrive.
Conference – Morning keynote, lunch presentations to include: Navajo Ceremony, Child Abuse Prevention Month proclamation from Mayor Evans and Chairwoman Archuleta, keynote address, and Caring for Children Awards. There are a variety of afternoon sessions to choose from.  Total conference is 6 hours of CEUs and includes the luncheon (luncheon can also be purchased individually).
Click on the flyer for the full outline of the conference!
Register here today! Registration deadline is March 20th!
Prices
Conference plus Luncheon = $95 ($75 for CCCY individual members)
Luncheon only – $35 ($25 CCCY individual members) or
Luncheon option – Purchase a table for 8 people $250 ($200 for CCCY member agencies)
Category: Advocacy, Child Welfare, Educational Opportunities, Events, Health, Resources