The Social Security Administration (SSA) is recruiting veterans for entry-level full time GS -4/5/6/7 Customer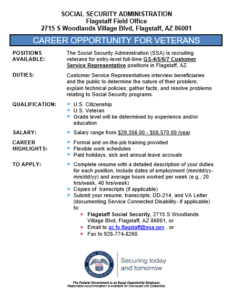 Service Representative positions in Flagstaff, AZ.
Duties: Customer Service Representatives interview beneficiaries and the public to determine the nature of their problem; explain technical policies; gather facts; and resolve problems relating to Social Security programs.
Qualifications: U.S. Citizenship, U.S. Veteran, Grade level will be determined be experience and/or education
Click here or on the picture to find out more about the job and how to apply.