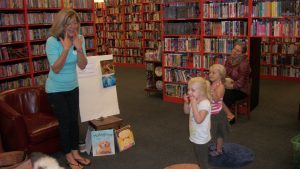 Presented by Bookmans Flagstaff at Bookman's Entertainment Exchange, Flagstaff AZ
Join Bookman's Flagstaff every Friday for Read to Me Storytime and fun with learning and letters!
These are literacy-based story times intended to help get your child ready for reading. Read to Me Storytime is complete with songs, games, activities and of course BOOKS! Join us for Storytime every Friday at the Kids' Corner!
Read to Me Storytime is intended for children ages 1-3 years old. Of course, all are welcome to any of our storytimes, but please note that each storytime is carefully constructed for the purpose of getting young children ready for reading.
ADMISSION INFO
Free Admission
When:
Dec 28, 2018 at 09:30 am – 10:00 am (Fri)
Jan 4, 2019 at 09:30 am – 10:00 am (Fri)
Jan 11, 2019 at 09:30 am – 10:00 am (Fri)
Jan 18, 2019 at 09:30 am – 10:00 am (Fri)
Jan 25, 2019 at 09:30 am – 10:00 am (Fri)
Where: Bookman's Entertainment Exchange
1520 S Riordan Ranch Road
Flagstaff, AZ 86001
Category: Educational Opportunities, Events, Programs