Because reading is the foundation for success in school and life, more than 500 partners are working together to advance early literacy as part of Read On Arizona. This collaborative effort connects communities to evidence-based practices, resources and technical assistance to improve language and literacy outcomes for Arizona's children from birth to age 8.
If you're already part of this collaborative effort, or if you're interested in bringing this work to your Arizona community, join us at the Read On Arizona Literacy Summit, to be held on Tuesday, August 29 at 2:15 p.m. at the Phoenix Convention Center, shortly after the conclusion of the First Things First Early Childhood Summit.
The Literacy Summit will highlight the importance of early literacy, its long-term impact on communities and our state, and the critical steps to making third grade reading proficiency a reality for Arizona's children.
Presented in partnership with First Things First, the 2017 Read On Arizona Literacy Summit is sponsored by the Arizona Community Foundation.
The Literacy Summit will feature:
Opening remarks from Governor Doug Ducey
Needle-Moving Strategies and What it Takes to Get Results
Smart Talk: What Every Parent Can Do to Help Their Child Succeed
Unpacking Policy to Practice: Policy Changes That Impact Literacy
Healthy Vision, Healthy Reader
Read On Community Spotlights
Follow the link here to see the full agenda for the summit!
There is no cost to attend the Read On Arizona Literacy Summit, but registration via the FTF Early Childhood Summit's online registration form is required. Find the registration form here.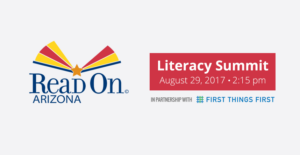 Category: Child Welfare, Educational Opportunities, Events, Programs