WHAT: Families with children of any age are invited to this free event with reading by local celebrities, including stories in Navajo, English, and Spanish, Suessical arts and crafts, pizza and more! Jump aboard the PALSmobile and North Country's mobile van to learn more ways to help kids build a healthy mind and body. The Cat in the Hat, Thing 1 and Thing 2 will be joining the fun!
WHO: Reading with local leaders Mayor Jerry Nabours, City of Flagstaff Vice Mayor Coral Evans, Chief of Police Kevin Treadway, Read On Literacy coaches, and Aaron Secakaku and his daughter.
WHEN: Saturday, March 1, 2014, 11:00 am – 1:00 pm
WHERE: Flagstaff Family Food Center, 1903 N 2nd St, Flagstaff, AZ 86004
Children in Flagstaff will join millions of kids across the country to celebrate the sixteenth annual National Education Association's (NEA) Read Across America Day.
NEA's Read Across America Day, which celebrates Dr. Seuss's birthday and the joys of reading, expects more than 45 million readers, both young and old, to pick up a book and read.
To honor the good doctor and celebrate the fun and value of reading Coconino Coalition for Children and Youth, Expect More Arizona, First Things First, Flagstaff City-Coconino County Public Library PALSmobile, Flagstaff Family Food Center, North Country HealthCare Medical Mobile Clinic, Northern Arizona University's Sigma Tau Delta, Read On Flagstaff, Sunnyside Neighborhood Association, Flagstaff Youth Theater and United Way of Northern Arizona are asking you to join NEA and many of America's leading literacy, youth, and civic groups in bringing a nation of readers together under one hat-the red and white stovepipe made famous by the Cat in the Hat-for a flurry of reading excitement!
Click HERE for the flyer!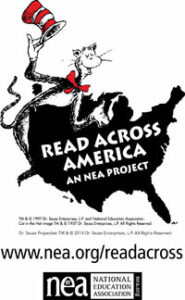 Category: Events