Child Abuse Prevention Fund
Child Abuse is a tough problem. Helping to prevent it is easy:
Child abuse is a problem in Arizona. In state fiscal year 2009 there were over 33,000 reports of abuse and neglect involving over 49,000 children. Prevention is the only way to reverse this alarming trend. Individual taxpayers in Arizona have a unique opportunity to help prevent child abuse by making a donation to the Child Abuse Prevention Fund on their individual income tax return. Whether you get a refund or make a payment, you can still donate. Your donation will go straight into the Child Abuse Prevention Fund.
The Child Abuse Prevention Fund was established by the legislature in 1982.
The purpose of the Fund is to promote child abuse prevention and to provide financial assistance to community agencies for the prevention of child abuse. Although it is a statewide program, no state dollars are appropriated.
The Fund receives its revenue from the following sources:
The income tax check off on the Arizona tax form

A percentage of the surcharges on fees for marriages licenses, dissolutions, and death certificates

Private donations
Since FY 1982, over 15 million has been collected and 50 different programs have been funded providing services to Arizona's children and families in the following areas:
Healthy Families Arizona

 program and evaluation

Teen and adult parenting education

Child sexual abuse prevention

Parent aide programs

Support groups for parents

Telephone reassurance for latchkey children

Child abuse prevention education programs

First Steps programs

Annual Child Abuse Prevention Conference
If you would like to make a tax deductible donation to the Child Abuse Prevention Fund or to receive additional information, please contact the CAP Fund Coordinator, Betsy Long at 602-542-5017.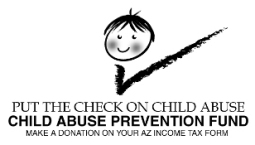 Information at https://www.azdes.gov/landing.aspx?id=10314
Category: General