Attention 6th to 12th grade teachers in Flagstaff! A new program with the City of Flagstaff geared toward middle or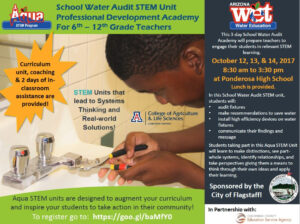 high school teachers has been started. Funding is available to hire someone with Coconino Extension who will assist teachers with implementation of the STEM unit!
This 3-day School Water Audit Academy will prepare teachers to engage their students in relevant STEM learning. In this School Water Audit STEM unit, students will:
audit fixtures
make recommendations to save water
install high efficiency devices on water fixtures
communicate their findings and message
When: October 12-14, 2017
8:30am – 3:30pm
Where: Ponderosa High school
Click here or on the picture to find out more information!
Registration is at:  https://goo.gl/baMfY0
Category: Education, Educational Opportunities, Programs