Flagstaff Public Library has released flyers for several upcoming events for the Fall!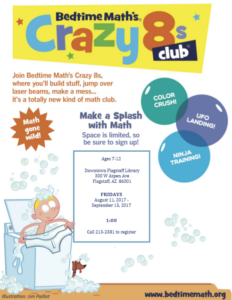 Up first is Bedtime Math's Crazy 8s Club! Available for children ages 7-12, they will build stuff, jump over laser beams, and make a mess! This club takes place Fridays August 11 – September 15 at 1:00. Call 213-2381 to register.
Saturday August 12 is Family Game Day in the Community Room! This event is open for families with children of all ages. Stories, snacks, board games, Wii games, and more!
For children 3 and up, Creation Station is a great event! Taking place Wednesdays 3:30 – 4:30pm in the Community Room. The next Creation Station is September 13.
Fall Storytimes promote your child's School Readiness Skills through Storytimes tailored for ages 0-5 years. Stories, songs and fingerplays help to cultivate your child's language and listening skills, as well as encourage a love of reading and learning. Baby Laptime is on Tuesdays at 10:15am, Toddler Tales also on Tuesday at 11am, Preschool Express is on Wednesdays or Thursdays at 10:30am, and Family Evening Storytime is on Wednesdays at 6pm for all ages!
The Lego Club meets next on September 18 at 3:30 – 4:30pm!
Follow the links of each event to view a PDF flyer for more information about them!