There are 3 types of distracted driving: visual – taking your eyes off the road; manual – taking your hands off the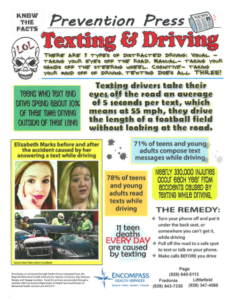 steering wheel; and cognitive – taking your mind off of driving. Texting does ALL THREE!
Texting drivers take their eyes off the road an average of 5 seconds per text, which means at 55 mph, they drive the length of a football field without looking at the road.
Nearly 330,000 injuries occur each year from accidents caused by texting while driving. 11 teen deaths EVERY DAY are caused by texted.
The remedy:
turn your phone off and put it under the back seat, or somewhere you can't get it, while driving
pull off the road to a safe spot to text or talk on your phone
make calls BEFORE you drive
Click here or on the picture to find out more about the negative consequences of texting and driving.
Page Head Start Program is now enrolling 3-4 year old students for the upcoming school year. *Tuition free preschool.*
Return your application to:
11 Cameron Rd
(928) 645-8080
*Families must meet income eligibility guidelines*
Referrals for transportation assistance are available
Children with special needs are welcome!
Don't delay…secure a spot today!