Promote your child's early literacy and school readiness skills through Storytimes tailored for ages 0-5 years. Stories, songs and fingerplays help to cultivate your child's language and listening skills, as well a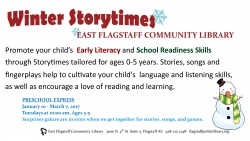 s encourage a love of reading and learning.
Surprises galore are in store when we get together for stories, songs, and games. Recomended for ages 3-5.
Presented by Flagstaff City – Coconino County Public Library at East Flagstaff Community Library
Individual Dates & Times:
Jan 24, 2017: 10 am – 10:45 am (Tue)
Jan 31, 2017: 10 am – 10:45 am (Tue)
Feb 7, 2017: 10 am – 10:45 am (Tue)
Feb 14, 2017: 10 am – 10:45 am (Tue)
Feb 21, 2017: 10 am – 10:45 am (Tue)
Feb 28, 2017: 10 am – 10:45 am (Tue)
Mar 7, 2017: 10 am – 10:45 am (Tue)
Category: Child Welfare, Education, Events