Based on the CSEFEL Model (Center on the Social and Emotional Foundations for Early Learning), this workshop is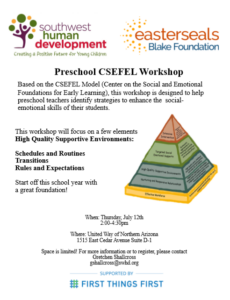 designed to help preschool teachers identify strategies to enhance the social-emotional skills of their students.
This workshop will focus on a few elements:
Schedules and routines
Transitions
Rules and expectations
Start off this school year with a great foundation!
When: Thursday, July 12
2 – 4:30pm
Where: United Way of Northern Arizona
1515 East Cedar Avenue Suite D-1
Space is limited! For more information or to register, please contact Gretchen Shallcross at gshallcross@swhd.org .
Category: Education, Educational Opportunities, Events, Programs, Resources