Pilot Parents of Southern Arizona – AZ Partners in Leadership. An enhancement of the Partners in Policymaking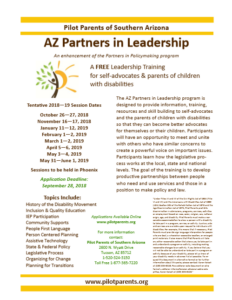 program. A FREE leadership training for self-advocate and parents of children with disabilities.
The AZ Partners in leadership program is designed to provide information, training, resources and skill building to self-advocates and the parents of children with disabilities so that they can become better advocates for themselves or their children. Participants will have an opportunity to meet and unite with others who have similar concerns to create a powerful voice on important issues. Participants learn how the legislative process works at the local, state and national levels. The goal of the training is to develop productive partnerships between people who need and use services and those in a position to make policy and law.
Application deadline is September 28, 2018 and are available online at www.pilotparents.org.
To learn more, click on the picture to the right or follow the link here.
Category: Advocacy, Child Welfare, Programs, Resources