This position will require enthusiasm for travel in the county and being a true impact in the lives of families.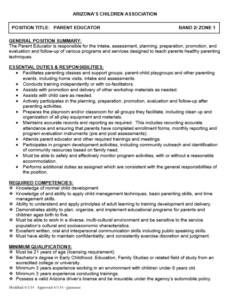 GENERAL POSITION SUMMARY:
The Parent Educator is responsible for the intake, assessment, planning, preparation, promotion, and evaluation and follow-up of various programs and services designed to teach parents healthy parenting techniques.
MINIMUM QUALIFICATIONS:
Must be 21 years of age (licensing requirement).
Bachelor's degree in Early Childhood, Education, Family Studies or related field of study from an accredited college or university.
Minimum 3 years experience working in an environment with children under 8 years old.
Minimum 3 years experience conducting trainings.
Possess a valid Arizona driver's license and be insurable under the agency's automobile policy.
Must be computer literate with knowledge of Outlook and Microsoft Office programs (i.e. Word, Powerpoint, Excel).
Follow the link here or click on the picture to the right to learn more about this position. If interested in this position, send your resume to Salli Maxwell  at SMaxwell@arizonaschildren.org
Category: Child Welfare, Programs, Resources