First Things First has recently opened up a position as Parent Awareness and Community Outreach Coordinator in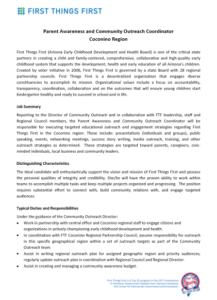 the Coconino Region.
Job Summary
Reporting to the Director of Community Outreach and in collaboration with FTF leadership, staff and Regional Council members, the Parent Awareness and Community Outreach Coordinator will be responsible for executing targeted educational outreach and engagement strategies regarding First Things First in the Coconino region. These include: presentations (individuals and groups), public speaking, events, networking meetings, success story writing, media outreach, training, and other outreach strategies as determined. These strategies are targeted toward parents, caregivers, civic-minded individuals, local business and community leaders.
Typical Duties and Responsibilities:
Work in partnership with central office and Coconino regional staff to engage citizens and organizations in actively championing early childhood development and health
Assist in creating and managing a community awareness budget
Track and record outreach activities with database and other tracking tools
Other duties as needed to complete FTF outreach goals
Qualifications:
Undergraduate degree or equivalent in communications, public relations, community outreach or related field a plus
Ability to build and maintain positive relationships
Creative and solution driven
This position requires day and evening travel within Maricopa County. Must possess valid Arizona driver's license and show evidence of valid automobile insurance coverage
Follow the link here or click on the picture to learn more about qualifications and job duties for this position.
Review of resumes will begin on January 26,2018 and continue until the position is filled. For consideration please submit your cover letter, comprehensive resume and three professional references to: www.azstatejobs.gov Job ID 35142