On your mark, get set, READ! at Page Public Library.
The Children's Summer Reading Program is scheduled for May through July 2016.
Be a reading champion this summer.
Earn rewards and prized s for reading
Enjoy stories, games and crafts
Attend special summer events and programming for extra points
Earn points for a chance to enter in weekly raffles
Receive a free book and prizes for finishing the program
The kick off event is Friday May 20th, 2016 from 12:30 to 2:00 p.m.
For more information, contact Desiree or Jackie at Page Public Library
928-645-5802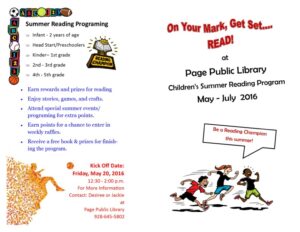 CLICK HERE for the Flyer.
Category: Education, Educational Opportunities, Events, Health, Programs, Resources