A Celebration of Science, Technology, Engineering and Mathematics at Page Memorial Park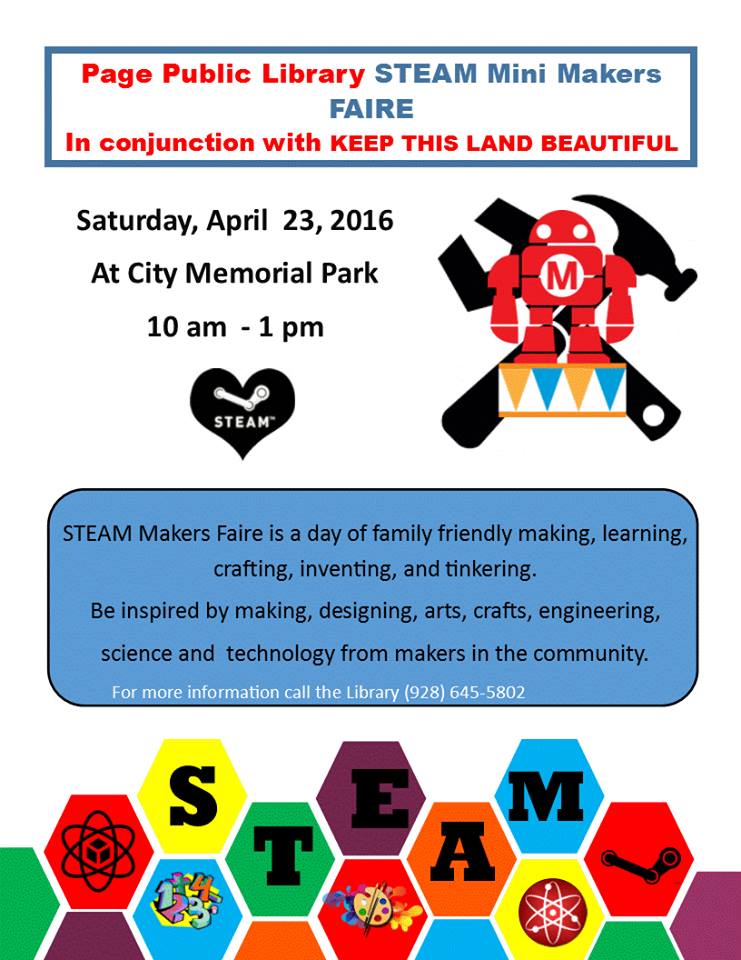 Hello Page Community,
The First Annual 2016 STEAM Mini Makers Faire is just around the corner. We want to make our Mini STEAM Makers Faire a BIG success. This annual STEAM Faire will be held on Saturday, April 23, 2016. Our mission is to inspire and empower students and the community everyday!
In order to make the STEAM Mini Makers Faire a reality, we would love to enlist the help of our STEAM Community. We are looking for people who are interested in providing a demonstration or hands-on activity in the areas of Science, Technology, Engineering, Art and/or Mathematics. Organizations, businesses, and schools will be able to showcase innovations and educational programs with the very children who will become our future leaders, creative minds, entrepreneurs, scientists, engineers, and programmers.
Booths must be STEAM-related; visual arts, arts, math, Science, dance, or theatre – the possibilities are endless!
If you are interested or have any questions you can reach me at (928) 645-4272 or cell (928) 660-2578 or email debbie@cityofpage.org. Please join us in making this faire a great success!
Every child has questions about the world around them, and the STEAM Fair committee doesn't ever want students to stop asking those questions. After all, questions inspire innovation, and every question is a great question!
Sincerely,
Debbie Winlock
Page Community Service Director
Category: Child Welfare, Educational Opportunities, Events