Remember the old days when kids went outside and explored? Bring those days back and register your child for the Outdoor Adventure Summer Day Camp.
What sets our day camp apart from the rest?
No additional fees
Theme weeks with many field trips
An emphasis on the great outdoors
The best part is you can sign up per week OR you can sign up for the whole session and save money!
Sign up for all of Session 1 (June 9 – July 3) for only $505, a savings of $30 / Session 2 (July 7 – August 1) for $520, a savings of $40!  Each Session repeats the same theme weeks and has similar activities and field trips. 

Monday – Friday
8:30 am – 4:00 pm
Ages 7-13

Week 1 (June 9 – June 13 and July 7 – July 11) Theme: Nature Rocks!
Example of Activities/Trips: Gems and minerals, Beta Bouldering Gym, Lava Tubes, and Red Mountain.
Program Number: 252 (June), 256 (July)

Week 2 (June 16 – June 20 and July 14 – July 18) Theme: Extreme Adventurers
Example of Activities/Trips: Flagstaff Extreme, Sedona (creek), Flagstaff Aquaplex, and Mountain biking.
Program Number: 253 (June), 257 (July)

Week 3 (June 23 – June 27 and July 21 – July 25) Theme: Ancient Explorers
Example of Activities/Trips: Elden Pueblos, Honanki/Palatki, Montezuma's Castle & Well, and Walnut Canyon.
Program Number: 254 (June), 258 (July)
Week 4 (June 30 – July 3 (no camp on Fri, July 4) and July 28 – August 1)Theme: Awesome Ecology
Example of Activities/Trips: Jay Lively Activity Center, Flagstaff Arboretum, NAU, Fishing, and AZ Game and Fish.
Program Number: 255 (June), 259 (July)
QUESTIONS? Call 679-8000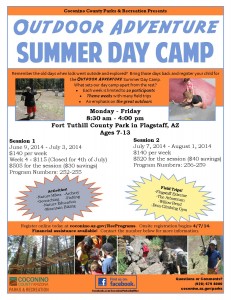 Category: Events