A music-making party for the whole family! On April 15th, Music Together will be hosting a Benefit Concert in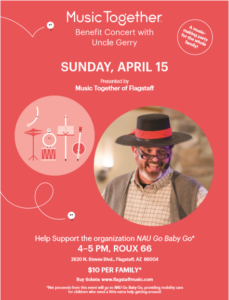 Flagstaff for only $10/family!  Music Together recording artist "Uncle Gerry" Dignan will be performing for children and their families on Sunday, 4/15 at 4 p.m.  Ticket sales benefit local non-profit organization NAU Go Baby Go!
When: Sunday, April 15, 2018
4 – 5pm
Where: 3620 N Steves Blvd
Flagstaff, AZ 86004
$10/family. Purchase your tickets here!