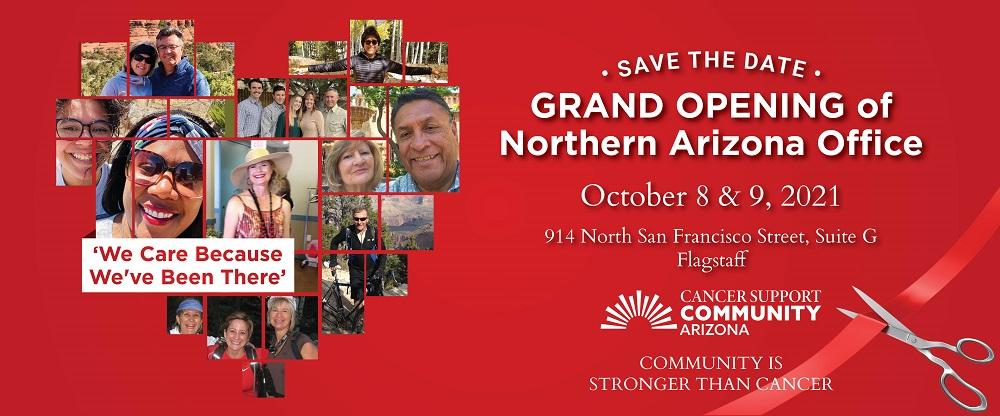 If you haven't already done so, please click here and register to join us on October 8th and 9th as we celebrate the Grand Opening of our Northern Arizona office.

We're very excited to be opening our doors for in-person programs and services in Flagstaff. Why? Because so many people in our community are impacted by cancer.

But as we know, community is stronger than cancer.

If you have a family member, friend or loved one who is facing cancer, knowing about Cancer Support Community Arizona gives you the opportunity to help them on a deeper level.

During our Grand Opening, you'll discover all the ways our free, comprehensive programs can provide education and emotional support to community members and their loved ones affected by cancer at any age, any stage, and any diagnosis.

Over the two days, we'll have special presentations and programs on:
"Anti-Cancer" Living
Hypnotherapy for Pain Control
Expressive Arts
Feel Good Foods for Cancer
Candid discussions about the cost of cancer care with representatives from North Country HealthCare
Gentle Yoga
Some presentations are in-person only, but a few are also available via Zoom. Check out our Celebration Schedule for details.
The beauty of experiencing Cancer Support Community Arizona for yourself is that you'll be able to share exactly how we can help those facing cancer. When that information comes from a trusted source (like you), it is more likely that those living with cancer will reach out and make use of the free services that we provide. You'll be giving them the greatest gift – a community waiting to welcome them with open arms and support them every step of the way.
Please consider joining us. We'd love to show you what our organization can offer you or your loved ones.
Sincerely,
Cindy Payne
Director of Northern Arizona
Cancer Support Community Arizona
RSVP FOR THE GRAND OPENING HERE