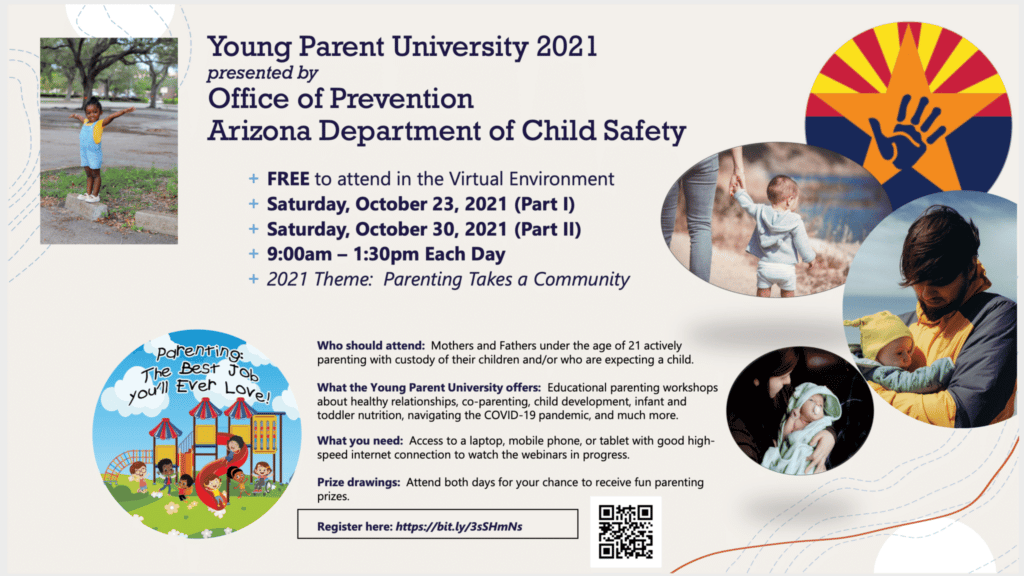 By the Arizona Department of Child Safety
Parenting Takes a Community
October 23 and 30th: 9:00am-1:30pm
Registration closes October 15, 2021
Event information:
Due to the ongoing pandemic, Young Parent University will be held virtually via Microsoft Teams.
Eligibility for attendance:
A young parent between the ages of 14-21 who is currently expecting a baby or who is already a parent to a child who they have they in their custody or have shared custody of.
Other details:
Workshops: Child Development, Dads Matter Too, Early Childhood, Injury Prevention, Fatherhood, and more.
Resource Review: Resources reviewed will include WIC, home visitor programs, childcare information, DES services, nutrition information, education and more.
If you are working with a young parent who does not have access to an electronic device and this would keep them from participating, please email Francis.Pacaja@azdcs.gov to discuss possible supports.
Please register, and encourage young parents to register via Eventbrite at: https://bit.ly/3sSHmNs (link included in attached flyer).
Want to help?
This is an opportunity to provide support, guidance and resources to young parents. We can strengthen the abilities parents have to provide safe and appropriate care for their children through this event and with your help!
Please discuss this positive and strengths-based opportunity with your Young Parents and encourage their attendance and share among anyone you know who offers support to this population.
Please email Francis.Pacaja@AZDCS.gov with any questions