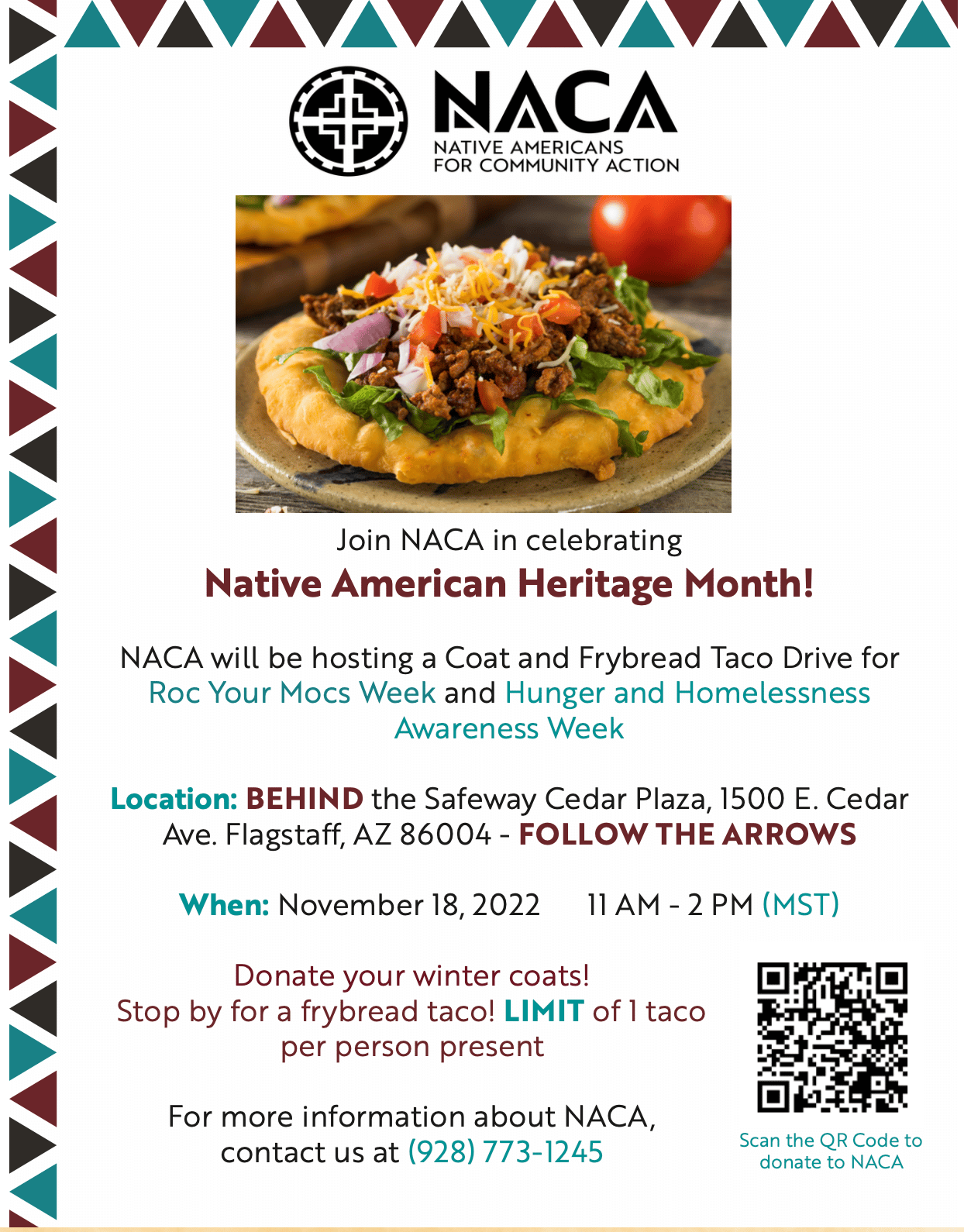 By Native Americans for Community Action (NACA)
November is Native American Heritage Month!
Join NACA in celebrating this month with a week of
#NativeStrong
events:
11/15/2022 – Indigenous Necklace Day
11/16/2022 – Traditional Attire Day
11/17/2022 – Traditional Hair Day & Film Screening at NACA Wellness Center – "The Seeds Our Ancestors Planted"
11/18/2022 – Traditional Skirts and Aprons Day
"The Seeds Our Ancestors Planted" is a film that follows former NACA L.I.F.E intern, Kai Begay and his family's journey of eating plant-based food during the COVID-19 pandemic. The screening will be followed by a food demonstration of an easy plant-based meal.
Date: November 17, 2022
Time: 6 PM – 7:30 PM (MST)
Location: NACA Wellness Center, 1500 E. Cedar Ave., Suite 52 Flagstaff, AZ 86004
Donate your winter coats to NACA this month! Collection boxes will be located at each of our suites in the Cedar Plaza
Stop by our Coat and Frybread Taco Drive on November 18, 2022 BEHIND the Cedar Plaza! Follow the signs!
1500 E. Cedar Ave., Flagstaff, AZ 86004
From 11 AM – 2 PM (MST) on November 18, stop by for a frybread taco, and more! We will also be distributing free PPE kits! ALL donations are appreciated!
For more information, call us at (928) 773-1245 or email us at outreach@nacainc.org
Category: Education, Educational Opportunities, Events, Programs, Resources