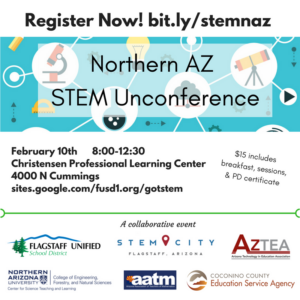 Problem Solving in a Digital-Age: Tackling Real-World Problems STEM Unconference 2018
By the Flagstaff Unified School District
The Northern AZ STEM Unconference will be held from 8 a.m. to 12:30 p.m. Saturday, Feb. 10 at the Christensen Professional Learning Center, 4000 N. Cummings, Flagstaff.
This event is open to all educators! Collaborate with other colleagues, get your questions answered, brainstorm strategies for teaching STEM, and help your students become problem solvers. #FUSD1#Flagstaff
Registration fee of $15 includes breakfast, sessions and a professional development certificate. Register here!
A collaborative event presented by the Arizona Association of Teachers of Mathematics, Coconino County Education Service Agency, Flagstaff Unified School District, Northern Arizona University College of Engineering, Forestry and Natural Science and STEM City Flagstaff.
Please see related story:
Category: General